INTERNATIONAL FORUM ON ANTI-CORRUPTION BEST PRACTICES
3 September 2013, Seoul

Welcome Speech
Sung-bo Lee
Chairman of the Anti-Corruption and Civil Rights Commission
Republic of Korea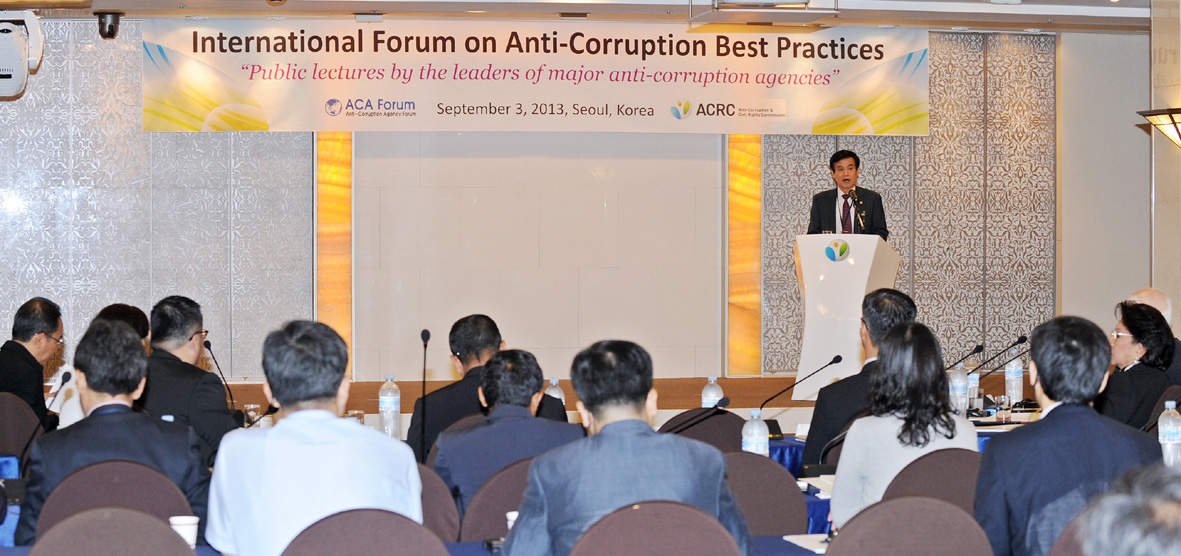 It is great honor to host the International Forum on Anti-Corruption Best Practices today. And I would like to express my deepest gratitude to the leaders and experts of foreign anti-corruption agencies for traveling a long distance to attend this forum here in Korea.
Your excellencies and ladies and gentlemen,
Corruption not only undermines justice and moral values in itself, but also tolerates or even encourages other kinds of crimes such as illicit trade, organized crime, and environmental destruction impeding the rule of law and sustainable economic growth.
The World Economic Forum announced in 2009 that corruption costs more than 5% of the world's total GDP. This cost is mainly passed down on to the shoulders of ordinary people, and it is also lowering the growth potential of countries around the world.
Today, corruption has become a transnational issue with the globalization of economy. As a result, we are witnessing more and more cases of foreign bribery with multinational companies doing business in foreign markets, and illegal financial transactions across the border using global digital network. This shows that corruption is a global issue, which should be resolved through collective efforts of the international community.
Honorable anti-corruption leaders and experts,
Based on our shared recognition of the gravity of corruption, the international community is taking a variety of measures in its effort to fight against corruption.
As you already know, the UN Convention against Corruption was adopted in 2003 to provide the global standard for the prevention and eradication of corruption, and the APEC Anti-Corruption and Transparency Working Group was launched in 2005. In addition, various international groups including ASEAN, OECD, and G20 have built the vibrant global cooperation in the anti-corruption area.
This forum is also a part of such a global cooperation to address the issue of corruption, for the purpose of sharing diverse anti-corruption initiatives and experience. In particular, I am expecting the animated discussion between the speakers and the floor. I would appreciate in advance your active contribution by raising questions and sharing thoughts after presentations of our distinguished speakers.
Distinguished colleagues,
One of the most renowned Chinese thinkers, Confucius said that when three people walk together, there must be a teacher for me. It means we can always learn something from our friends or colleagues. Today's forum gathered around 100 anti-corruption experts and practitioners from 9 countries here, and I believe that we can meet our teachers and learn lessons among ourselves.
Once again, I would like to extend my sincere appreciation and warmest welcome to all of you for taking time out of your tight schedule.
Thank you.